English | Autor: Hilska Mika
Mikael Hill dares lead the best
There's no brighter spotlight in floorball than the one served for Sweden's national team head coach. The best of the best are always expected to perform superbly and should it not happen there is only one person to blame. Mikael Hill is the one who did not hesitate to take the job.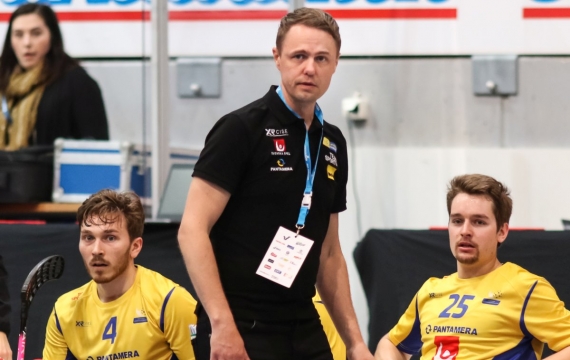 Mikael Hill, Sweden's national team coach, in April 2017. (Photo: Mika Hilska)
Announcing Mikael Hill's contract as the new head coach in March, one of the requirements the Swedish Floorball Federation mentioned was what the head coach does outside the floorball arenas. He would be the sport's face to outsiders and his ability to handle the relationship to media, clubs and others concerned would be crucial as well. Mikael Hill is the man to take care of that part, too, the federation officials said and obviously they were right. Being asked for this interview it only takes him 15 minutes to answer. "Yes, of course, let's make it happen", he writes back.
Mikael Hill did not become the new head coach at the most convenient moment. After two straight WFC titles, the yellow giant returned from Riga in December disappointed and humiliated. having blown a two-goal lead in the final against Finland, Sweden drew the shorter straw in the penalty shootout and left the rink with nothing more than the silver medals. At the same time, though, taking over after a missed title takes some pressure off his shoulders. His predecessor Jan-Erik Vaara lead Sweden to four straight women's WFC titles and two straight men's titles but not even he turned out to be invincible after all.
"Pressure is a part of this job and it is something you'll just have to learn to live with. I don't see it as a major problem myself", Mikael Hill says. "Sure we have missed a couple of WFC titles but if you look at the bigger picture you'll see Sweden has won no less than seven out of 10 WFC titles since 2012-2013. From that point there's no problem. But of course we are the team everyone wants to beat and beating us means taking the title. From that point we live under constant pressure to perform our best every time."
Shutout versus Finland
A new captain on the ship always includes an amount of uncertainty and it is easy to think the Swedish floorball community was unusually interested to see how their team would perform in its first games under Mikael Hill's rule. Four months after losing the WFC title Sweden travelled over to Finland to take on the other top nations in the WFC tournament in Turku. After a shaky 6-5 victory over Switzerland, Sweden destroyed Czech Republic 10-3 and ended the weekend with a sweet 4-0 revenge over Finland. It was the first time in 17 years that Sweden had held the Finns without a goal.
"Winning is always a good thing for your self-confidence and the way we did it brought a little bit extra", Mikael Hill admits. "Shutting out Finland on their home ground is definitely a show of force. But then again one has to remember both teams attended without or rested many of their big names so one should not come to major conclusions just because of this one game."
Local heroes easy to find
Sweden's new head coach comes from a typical Swedish sports background.
"Sports was something I felt strongly for already as a little boy. To move, train and compete have always applied to me and they still do. I grew up in a little place south of Jönköping and all kinds of sports were pretty much everything there was to do at our free time. In my youth I tried things like cross-country skiing, motocross, football and a number of other sports."
A bit surprisingly, the future head coach of the greatest of floorball nations entered the world of organized floorball quite late. "I had always played floorball with my mates at the school yard and at the local recreational center but I did not find its its organized form for quite a while. First at gymnasium level a classmate asked me to try a practice session of local Värnamo IK and right after the first session I was hooked.  The speed and the technical aspect of the play made it all feel quite special."
As it happened to be, those where the times when Jönköpings IK was one of the best teams in the country making the Swedish finals regularly. That meant local heroes were easy to find for idols for a young player. "Tommy Jonsson was the captain of Sweden's national team at the time and Peter Ahnberg was another star to stick out. It was them I watched and who had the biggest influence on my play."
Not a star player 
Not all top coaches need to be former star players and you could say Mikael Hill is one of those who confirm the exception. "I never played for any junior team as there were not too many of them in the end of the 80's when I started playing. I attended Värnamo IK's first team twice before I was called to play a game and I remember how I scored in my first shift the first time I touched the ball. After Värnamo I did a couple of seasons playing for local Skillingaryds IK followed by a couple of seasons for Vimmerby IBK at the highest level.
Mikael Hill became a coach at quite young age. "It was in my years in Vimmerby that I had already missed a season because of my military service and after coming back I had a foot injury that cost my another half season. At that time I had had the task of coaching the club's junior teams plus the local district team and I even had a position as assistant coach of Sweden's U19 team. In that situation I soon came to the conclusion that I had more to give as a coach that I would have had as a player."
During the trip from behind a junior team's bench to the men's national team a coach must have learned quite a lot. "It is of course not easy to point out one single thing but I have learned the importance of looking into enough of a long time perspective. It is way too easy to concentrate on things happening now and just look for short-sighted solutions. Another big thing is to trust and give responsibility to your players and members of your coaching staff so that they sense how much you trust them. That makes you grow no matter whether you are an equipment manager or a right winger."
Next stop World Games 
The first thing a new head coach is asked is what kind of a game his team is going to play. Mikael Hill wants his players to deliver speed and intensity and dare do things and get out there to win games. At the same time, they will be required to perform well structured defensive floorball. With Sweden missing bot the men's and the U19 WFC titles this season, one has to ask Mikael Hill whether there are any major changes needed for Swedish floorball. Being the calm and calculating type that he is, Hill does not jump into hasty conclusions.
"There are a lot of factors to be considered carefully. In the U19 WFC in Växjö you could clearly see how Finland had a lot of players who had experience from men's games in Salibandyliiga whereas in the Swedish team there were few players with men's elite games under their belts. So to win U19 titles it would be useful for us to have as many players as possible with SSL experience. On the other hand to develop young players we should have a broad level of young talent to later have more potential men's national teams players. Also, it is harder for a young player to take a place in SSL where the competition is very tight compared to Salibandyliiga where there are many weaker teams for whom it is easier to play younger players", Mikael Hill points out. "But one thing we can definitely learn from Salibandyliiga is how they play three lines a lot when in SSL we mostly just rotate two."
Mikael Hill's contract runs all the way to 2020 including the WFC tournaments in 2018 in Czech and in 2020 in Finland. Yet, next for him and the other top countries lies the World Games week in Poland in July. "When choosing the squad for World Games, I thought about the experience from big games and WFC tournaments", Mikael Hill said on the Swedish Federation's website. "So many games within just a few days is going to require a lot from the players."
Sweden will face USA and Switzerland in their group to then play the semi-final and quite obviously final. "It is going to be a giant event and getting to be a part of it will probably give us life-long memories. I hope the floorball tournament is going to be an eye-opener for those who have not yet seen the light and let them see the speed and drama that a good floorball game can show", Mikael Hill says.
---
Mikael Hill
Age: 44
Lives in Jönköping
Clubs as player: Värnamo IK, Skillingaryds IK and Vimmerby IBK.
Clubs as coach: Vimmerby IBK, Östra SK Jönköping, Jönköpings IK, Fagerhult Habo IB, IBK Lockerud Mariestad and Mullsjö AIS.