English | Autor: Hilska Mika
Toughest task ever for Finland
As always, Finland's head coach Petteri Nykky will be heading to a WFC tournament with an extremely experienced squad. In Prague in December, they will face a task tougher than ever as not only Sweden but Switzerland and Czech Republic, too, are now ready to beat them.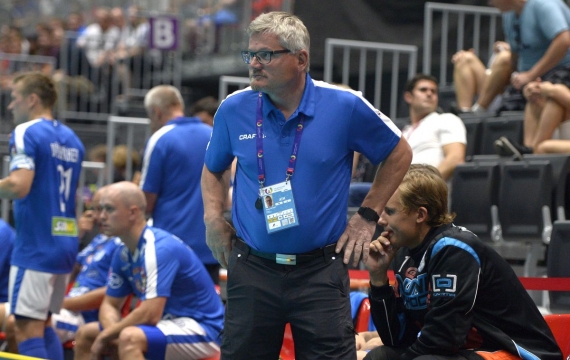 Petteri Nykky is counting on a very experienced squad for WFC 2018.
Since Petteri Nykky took over again after the WFC in Riga, Finland's results against Sweden and Czech have looked normal. Five losses against the Swedes spiced with a single victory, won games against Petri Kettunen's Czechs. But what stands out are the three losses against Switzerland in six games. "We are a bit behind Sweden as usual", Petteri Nykky puts it, "against Switzerland it's a 50-50 situation and against Czech someone might think we have an advantage, but their home arenas and audiences will even that out". That's why Finland will have to show their best to make the final and even not to return home without a medal at all. That would be the first time in floorball history.
Finland's player list with names like Mika Kohonen, Juha Kivilehto, Jani Kukkola and Lauri Kapanen drew the usual snarks from mostly anonymous internet experts: "Too old, why so many Classic players, Nykky only plays his best friends" etc.  Yet, at the same time a line of Finnish floorball personalities stepped forward to make it clear that the list contained no surprises and that they had been able to predict 20 out of 20.
After all, there were not that many leftovers drawing major discussion. SPV forward Jari Hankkio had dominated floorball headlines with his sensational 22 goals in just five games and Nykky publicly blamed himself for not having tested Hankkio earlier. Yet, the Seinäjoki goal machine was out most of last season with a knee injury. Then there's the peculiar case of 1,000-Salibandyliiga scoring point Henri Johansson who has voluntarily stayed out of the national team but was named on the 30-player list promising he would be available should need arise due to injuries or something. Striking long-time trustees Jami Manninen and Jonne Junkkarinen from the final list raised eyebrows, too. Many thought Westend Indians' young guns Valtteri Parviainen, Aaro Astala and Otto Lehkosuo should have been there but those are names that Finland's WFC2020 squad will be built on. Junior World Champions Justus Kainulainen, Rasmus Kainulainen, Heikki Iiskola and Eero Jalo, too.
"Mika's been playing professional floorball for twenty years and he is on a level of his own there", Petteri Nykky has said and there are reasons why 41-year old Kohonen is still on the team. As experts have put it on several podcast episodes and opinion pieces published after the team release, Petteri Nykky does not sketch set plays for his players but a lot of what happens out there is created by players' co-operation and that takes certain types of personalities. With guys like Mika Kohonen, Juha Kivilehto or Jussi Piha, there's no need for a coach to tell them what to do in a one-goal lead or being one down. They know.
Also, Nykky has pointed out how different games between WFC top teams are from your everyday Salibandyliiga nights. "There are regular season games and then there are national finals, Champions Cup, international friendlies and EFT weekends and there are WFC's", he said, with everything just getting faster and tighter level after level. Consequently, he wants to test his candidates in as tough games as possible, before he makes up his mind. "It's a 22-month job interview after which you hire the guy to work for a month", Nykky has put it.
This time, though, there is an interesting exception from Nykky's rules and his name is Mikko Hautaniemi. The Turku giant popped up out of nowhere for the November EFT without having taken part in the national team's training camps of previous tournaments. Well, not exactly out of nowhere, actually, as the head coach said he's been keeping on eye on Hautaniemi for a long, long time all the way since he was a round-cheeked unpolished junior talent with striking size and a hunger for goals. "I already noticed him ten years ago, and during his years in Switzerland he has grown up as a player and found the values of an athlete", Nykky said. Hautaniemi is obviously not one of the parts of a well-oiled unit thinking as one like Finland's first five with Classic players Eemeli Salin, Nico Salo, Sami Johansson, Krister Savonen and Janne Lamminen. instead, Hautaniemi is something else. He's more like a loose cannon that you can throw out there when things are not going well and you want to change the flow of the game making your opponents face something it is hard to prepare for. Also, it's easy to guess Hautaniemi's positive outgoing personality gives the team an extra asset.
In WFC final rehearsal EFT in Uppsala in November, Finland was struggling in offense and especially against Sweden giving up soft goals after clear errors. Some in Sweden saw undisputed signs of weakness whereas some muttered about "those Finns always hiding their best plays before WFC and having trump cards somewhere". Both may be right. Finnish coaches have usually liked to keep testing until final EFT and only then then start giving the finishing touch that keeps going on during the WFC week so that the team would finally be at it best at the final weekend. Still, in November there certainly was quite a lot yet to be honed.